Congressmen Turner and Issa Support Delphi Salaried Retirees with Dialog with PBGC
Details

Last Updated: Thursday, 22 December 2016 06:45
Published: Sunday, 21 August 2016 20:49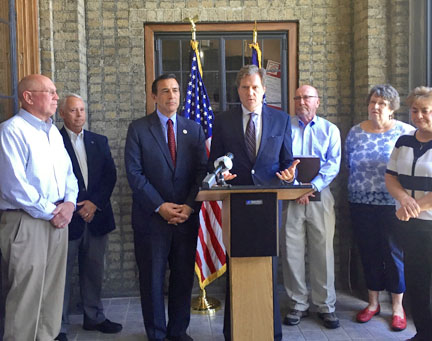 Rep. Turner holding press conference
with Rep. Issa and DSRA representatives
On Thursday August 18, 2016, Congressman Mike Turner (R-OH) hosted a meeting with Congressman Darryl Issa (R-CA) to further expose the plight of Delphi salaried retirees and their 7-year long fight to restore their pensions. A number of Delphi salaried retirees attended including leaders of Delphi Salaried Retirees Association.
The meeting focused on the retirees' ongoing legal fight to restore their pensions, and included discussion of the recent reinstatement of Health Coverage Tax Credit (HCTC) for retirees whose pensions have been terminated to the PBGC.
Congressman Turner has been a consistent supporter of the Delphi salaried retirees throughout the long period of their battle, and Congressman Issa is very familiar with the retirees' pension issues through his past chairmanship and membership of several congressional committees. DSRA is most appreciative of their ongoing support.